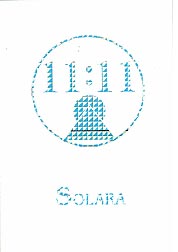 This book is about a journey,
the most important
and exciting journey
we shall ever take.
It is our journey into Oneness….
11:11 is our wake-up call.
It is our map into the Unknown.
The 11:11 is the bridge from duality to Oneness.

Millions of people have been seeing the Master Numbers 11:11 all over the world.
What does it mean? Why are we being triggered?
What was the 11:11 Activation on January 11, 1992 in which over 100,000 people participated?

The 11:11 Cosmology is finally explained as we quantum leap from duality into Oneness.
This book contains the Temple Invisible, encoded discourses from the Invisible which will trigger your cellular memory banks.
There are 50 pages of firsthand 11:11 experiences from many who participated in the opening of the Doorway of the 11:11.

Solara says: "The upcoming Seventh Edition of "11:11" is full of important new information.
Every page has been thoroughly recalibrated and rewritten.
There are many new chapters; it will be well worth the long wait"

Read a SAMPLE CHAPTER of "11:11".
ISBN# 1-878246-05-4
"11:11" is currently being completely rewritten & updated.
The totally new Seventh Edition will be titled "11:11- Journey into Oneness"
and will be available in 2013.